OFFER
SIGN UP FOR YOUR 14 DAY FREE TRIAL
Rapid4Cloud provides intelligent and easy-to-use software to set-up, manage and maintain Oracle Cloud Applications – with a range of options on offer to suit everyone's needs.
We will provide you, free of charge, 14-day access to our on-demand platform where you will be able to:
produce and automatically document the configuration of your Oracle instance
perform impact analysis of the latest Oracle Quarterly update versus existing
As well as delivering the comparative analysis, the newly documented Configuration workbook is yours to keep.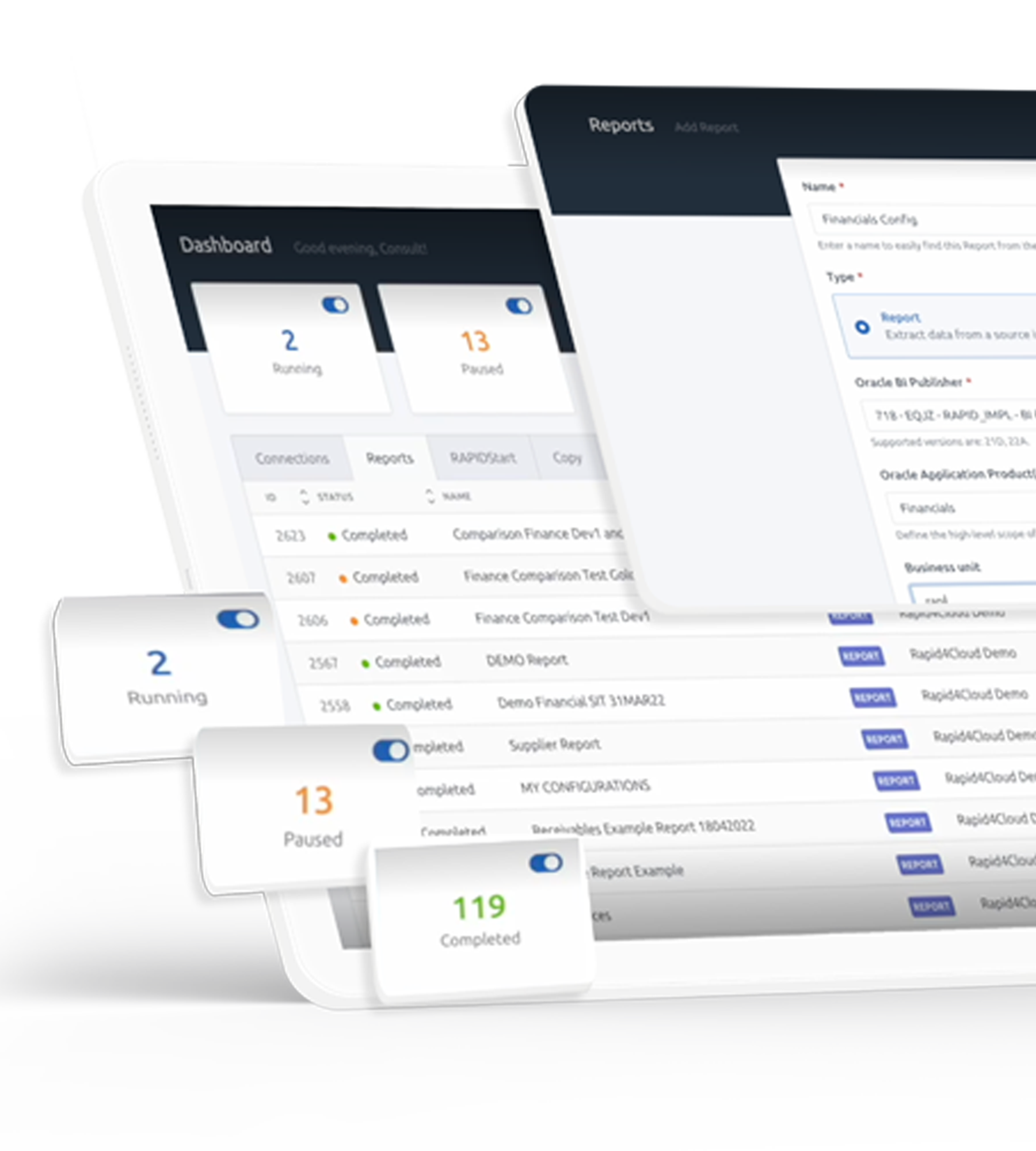 WHAT'S IN IT FOR ME?
Here's all the good stuff
Try it before you buy it
We are so confident in our software we will give you 14-day Free Trial access to our tools - That's no cost and zero obligation with demonstrable ROI.
Fully supported training
From dedicated account managers, training videos, guided tutorials and a global support team - you can be sure to get the most out of your time
Risk / Time = Money
Thanks to HyperAutomation (AI + Automation) - Rapid4Cloud's platform is specifically built to help reduce risk, saving users time and money!
Impact Analysis of 23A
Using this trial you can quickly run an impact analysis report on all the changes to your environment from Oracle's 23A Release
THE BIG PICTURE
HOW GROUPO PRODENSA ACCELERATED THEIR ORACLE CLOUD IMPLEMENTATION AND ROLL-OUT
"When we take about 3 weeks and 2 resources to make a copy of any business unit… [The] Rapid Solution does that in one day"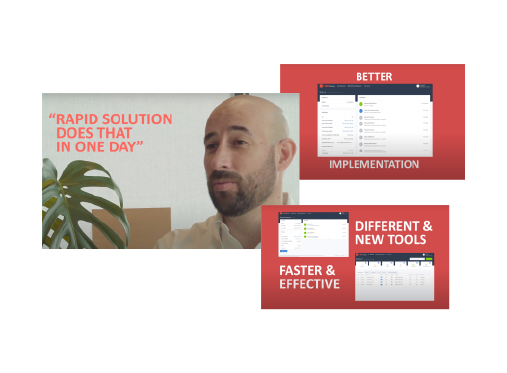 LEARN
WHY DE NOVO SOLUTIONS PARTNERED WITH US
WHITEPAPER
Get our free Whitepaper on reducing your Oracle Cloud Application's Carbon Footprint
As we consider the impact we have on the world we inhabit, ...we will also lower the carbon footprint of consulting firms and companies that use our robotic process automation (RPA) and artificial intelligence (Al) solutions to automate elements of their Oracle Cloud Applications estates. Learn How.
FAQ's
Need clarification?
Why use Rapid4Cloud - Feature vs Future?
Rapid4Cloud are the global leaders in Intelligent Cloud Automation Software. For both new and existing users of Oracle Cloud Applications, our software accelerates the journey to the cloud, helping them setup, manage and maintain their Oracle Cloud environment. Since 2003 we supported over 400 Oracle Applications users in more than a dozen countries to help them optimize the implementation of their solution and maximize the return on their investment.
Our products use the very latest Artificial Intelligence and Robotic Process Automation technology to deliver a unique solution that is used by many of the world's leading IT companies and system integrators. Our customers include companies from across the spectrum of industries, who all rely on Rapid4Cloud solutions to quickly enable the new ways of working inherent in Oracle's ERP and HCM Cloud.
How long does this 14 day trial really last?
Our standard trial length is 14 working days to be able to demonstrate clear ROI.
On occasion, we offer an extended trial either as part of company promotions, or where there is a clear business case to do so.
If 14 days is not long enough for your project, for whatever reason, your dedicated Sales representative will be happy to discuss possible options.
How do I upgrade the features in my trial plan?
Still have questions?
Try checking out our Knowledge Base here for the answers you seek: https://service.rapid4cloud.com/en/knowledge
Alternatively, you can book a meeting with one of our team here, who will be happy to assist you: